Buyers and professionals gather at Tokyo Big Sight in search of the latest products and information in the beauty business!
Cosmetics & Beauty Equipment (Professional Use) Cosmetics

Serum,Lotion,Cream,Peeling,Oil,Milky lotion,Hair,Eyelashes,Eyebrows,Oral, Hands,Nails,Feet,Men's esthetics

Cosmetics & Beauty Equipment (Professional Use) Beauty Equipment

Cavitation,EMS,RF,Poration,Hair removal equipment,Steamers, Heat mats,Beauty salon light LEDs,Electric brushes,Whitening,Hydrogen equipment,Oxygen capsules

Cosmetics & Beauty Equipment (Professional Use) Treatment & Beauty Methods

Slimming, Hair removal, Facial beauty, Diet programs, Head spas, etc.

Cosmetics & Beauty Equipment (Professional Use) Products for Salon

Consumables, Immediate sales,Other equipment,Inner beauty (Beauty supplements,Drinks,Functional foods),Femcare and Femtech,OEM/Contract manufacturing,Sales promotion/Business support

Cosmetics & Beauty Equipment (for Aesthetic Medicine)

Beauty medical devices,Clinic exclusive cosmetics and Supplements,Clinic Equipment and Services

Anti-aging

Anti-aging cosmetics(Stem cell supernatant,NMN,Retinol,etc.), Equipment,Supplements, Functional foods,Various testing and analysis services

Overseas Pavilion

Overseas cosmetics(Facials, Body),Men's cosmetics,Parts care (Hair,Eyelashes,Eyebrows, Oral,Hands,Nails,Feet),Beauty equipment(Slimming,Hair removal,Facial beauty,etc.),Beauty goods
The "Diet & Beauty Fair" is a business exhibition that brings together professionals involved in aesthetic medicine, including cosmetics and beauty equipment, beauty facilities such as esthetics, and beauty clinics.
In addition to business negotiations, companies and stakeholders involved in the business of "supporting the health and beauty of working women" gather from all over the country as a place for information exchange that creates trends and business opportunities in the market.
Visitors
Beauty / Health Facilities
Beauty facilities Various salons such as Esthetics,Hair,Nails,Eyelashes,Eyebrows
Beauty/Preventive Care Facilities Beauty clinics,Ladies' clinics,Obstetrics and gynecology,Gynecology,Dermatology,Plastic surgery,Orthopedics,Medical esthetics,Medical examinations,Rehabilitation welfare facilities,Health insurance associations
Exercise/Health Facilities Fitness clubs,Sports clubs,Chiropractic,Osteopathic clinics,Acupuncture clinics,Relaxation salons,Yoga studios,Health promotion facilities
Spa/Hot Bath/Hotel/Japanese Style Inn Facilities Spa facilities,Hotels,Inns,Accommodations,Resort facilities,Hot baths,Saunas,Leisure facilities,Travel&Tourism related
Retail / Distribution
Retailers Department stores,Electronics retailers,GMS,CVS,Supermarkets,Home centers,Shopping centers,Drug stores,Dispensing pharmacies,Select shops(Apparel,Lifestyle,Interiors,Miscellaneous goods),Health&Natural food stores
Non-store Retailers Mail order(EC,Catalog,TV,Radio),Door-to-door sales,Network sales
Wholesaler/Trading companies 
For facilities (Beauty,Health,Exercise,Medical care,Nursing care,Hot baths,etc.)
For general retailers(Drugstores,Food,Home appliances,Miscellaneous merchandise stores,etc.),Overseas support,Beauty facilities

Manufacturers

Cosmetics(Skin care,Makeup),Health,Supplements,Beauty&health equipment,Miscellaneous goods,OEM,Contract manufacturing
Other
Government Offices, Local Governments
press
Inquiries about exhibitors and visitors
| | |
| --- | --- |
| | |
Concurrent Exhibitions/Concurrent Events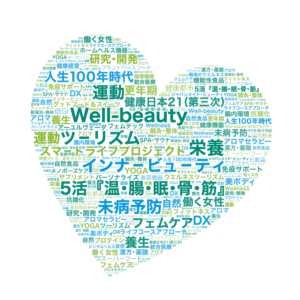 Well-beauty Style (Wellness Industry Exhibition & Conference)(1st edition)
All wellness businesses that aim to create more wellness "lifestyles", "spaces", and "communities (towns)" are gathered!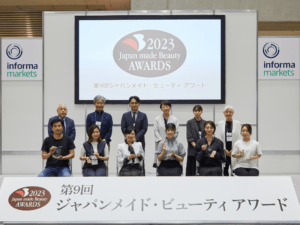 The 10th Japan Made Beauty Award
"Japan Made Beauty Award" recognizes beauty items originating in the region that utilize local resources
An awards ceremony will be held within the Diet & Beauty Fair 2024.
Click here for the 2023 award winners.